Welcome to the Computer Vision and Multimedia Lab website.
GET IN TOUCH
DAFNE (Digital Anastylosis of Frescoes challeNgE)
DAFNE has been an international challenge concerned with collecting outstanding contributions to the field of Anastylosis. The goal was to develop tools enabling digital reconstruction of heavily damaged frescoes, supporting their restoration through the solution of the 'puzzles' formed by the remaining fragments, often mixed with spurious elements. The competition was looking for both manual and automatic solutions, to help in the reconstruction and conservation of our artistic heritage. It could be approached in two different ways: 1) with an automatic approach, aimed at identifying a digital process for the reconstruction of a sort of complex and incomplete puzzle; 2) with a manual approach, to allow the inclusion of people who "think through images", that, using a specially developed software (Javastylosis) can move the fragments images 'by hand' and get the corresponding coordinate table (the condition of visual thinking is relatively widespread within the autistic spectrum).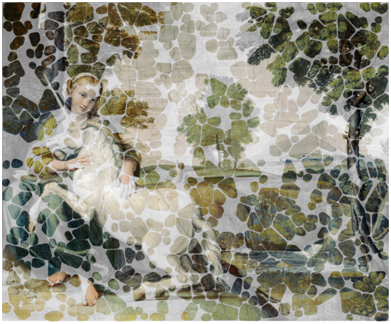 Reconstruction of the simulated fragmentation - made of 600 pieces, of which 126 spurious - of the fresco "The Virgin and the Unicorn" (by Domenichino - 1602 - Palazzo Farnese, Rome)

The contest is over (submissions closed on July 15, 2019). Twenty-eight teams (altogether 52 people) enrolled in the competition, with participants from eight different countries (Brazil, Bulgaria, France, Germany, Italy, Portugal, United Kingdom, United States). Nine different solutions were received (from 17 people, grouped into three teams of two people, a team of three, a team of four and four individual). The winners of the challenge presented their results and have been awarded during the 20th International Conference on Image Analysis and Processing (ICIAP 2019) held in Trento, Italy, from 9th to 13th September 2019. The proposed algorithms have been published, after a peer review, in a dedicated Virtual Special Issue of Pattern Recognition Letters (Elsevier journal) on Digital Anastylosis of Frescoes challeNgE (DAFNE).

The Computer Vision and Pattern Recognition communities were involved in the project, for the application of advanced computer techniques, such as machine learning and deep learning, to the development of adequate IT tools.
The dataset originally created for DAFNE is now publicly available, but its use is restricted to research, education and non-commercial purposes.


---
Please find
>> the challenge
notice
>> the notification of the best submissions and announcement of the
winners
>> the
DAFNE dataset
(now publicly available)
---
Related publications
Piercarlo Dondi, Luca Lombardi, Alessandra Setti (2020). DAFNE: a dataset of fresco fragments for digital anastlylosis, Pattern Recognition Letters, 138 (2020), pp. 631-637, Elsevier, DOI:10.1016/j.patrec.2020.09.015
Virginio Cantoni, Luca Lombardi, Giovanna Mastrotisi, Alessandra Setti (2019). Digital Anastylosis of Frescoes challenge (DAFNE), 35° convegno internazionale SCIENZA E BENI CULTURALI.2019, Il patrimonio culturale in mutamento. Le sfide dell'uso, Giornate di studi internazionali, Bressanone, 01-05 luglio 2019, Arcadia Ricerche ed., pp. 1067-1075, ISBN 978-88-95409-23-8
Virginio Cantoni, Luca Lombardi, Giovanna Mastrotisi, Alessandra Setti (2019). The DAFNE Project: Human and Machine Involvement, in V. Cappellini (ed.), Electronic Imaging & the Visual Arts. Eva 2019, pp. 24-31, Firenze University Press, ISBN (online PDF): 978-88-6453-707-8
Press room